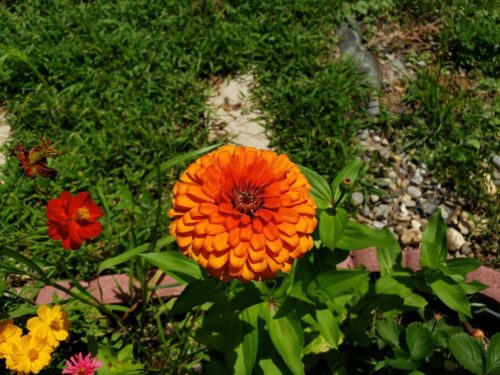 And it's already the middle of August… July went somewhere? Well, July went by so fast it feels like it was only a couple days long, probably because there was a lot going on (as is often the case). But it was largely good and fun things. A lot of it was even things we haven't done in a long time or things I've really wanted to do for a long time.
We went to the regional park and everyone got a ride on the carousel, we went to the Takoma Farmer's Market for the first time in years, we even went to places that are 'farther' away be current definitions (which at the moment means the Ikea and the Lowes 30 minutes north of here…). None of them sound very big, but given how long it's been since anything like that has been possible, those are a pretty big deal.
And there were fun things, the little guys got to see geese and a heron at the lake near one of the best parks, we went to the toy store west of here just for having a fun drive. We all got up early and walked to the 'new' (it's been there for at least a year, but it's new to us!) coffee shop. There have been a lot of good summer things.
There have also been projects, we had two weekends with over 40 lb of tomatoes each weekend that got turned into sauce and probably over 100 lb overall. We've gotten lots of squash, beans, hot peppers and bell peppers this year and fun tomatoes. We got lots of nice garlic, onions and potatoes too and even a measurable number of cucumbers from the garden. Oh, and the blackberries and raspberries have finally gotten going and they taste really good.
I've got a whole bunch of fun Christmas sewing done (everyone has homemade Christmas stockings this year!). Maybe I can do a few more things soon, like Halloween costumes and a few more Christmas decorations or gifts. I have pumpkin and astronaut costumes to make!
Knitting also has a lot of things that got done, the little guys have new hats, the smaller Patrick has a new sweater and soon there will be one for Will. After that, maybe Christmas gifts? I'll have to come up with something fun.
And the majority of my Christmas shopping is done too. I like to do it early since then I can get them from a wide variety of places. I think the holidays will be fun this year!
And there have been a bunch of random house projects, we put up a new kitchen cabinet and shelves, moved things around in the living room, did more work on the landscaping, the grown up Patrick built the little guys a set of shelves/box for their stuffed animals, we finally got the exterior faucets fixed…just a whole bunch of random things. Hopefully before the weather gets properly cold this fall we can get some of the random electrical stuff done (maybe even an exterior outlet, I want to try holiday decorations…) and winterize some things and maybe paint the front door (I'm voting for a nice bright yellow).
I will also have a whole bunch of tulips and daffodil bulbs to plant for next spring and more fall veggies to plant too. And the updating on the playground at the park should be done soon (it's going to be way bigger and really nice!) and the library/rec center combo building will reopen soon too. So there should be plenty to keep us busy for awhile…