So, once the  goals have been established, the next step is planning!  January is the start of the new year, and therefore for me it's also been the start of all my new plans.  Given that I try to split my time between work and a bunch of different hobbies and projects having an outline of things I want to make helps with organizing everything.
Summer Shawl – Lamira in a variegated green in Knit Picks Shadow is still going! I think I'm about two thirds done so far, so hopefully it will be done by this summer. This will be a light airy shawl. So far it's been fun to knit, but it's the sort of project you need to focus on.
Movie Night Blanket – Abrigado in Knit Picks Wool of the Andes Bulky in Silver. I really want to have a big, warm, fuzzy afghan for the sofa and I think this one will do it. It looks nice on both sides and I will do an extra pattern repeat and make it longer to get the size I want. I'm going with Wool of the Andes because it will wear well, and I'm doing regular wool since I don't think Superwash is actually all that much easier to deal with.
Everyday Sweaters – My Favorite Sweater in Knit Picks Wool of the Andes Bulky. I'm doing two of these since I think they'll be nice warm everyday sweaters and they should knit up quickly. I'm going to do one in Bluebird and one in Grass, which will be nice happy bright colors for winter.  The pattern is customized based on your measurements so I'm hoping to get sweaters with a good fit.  I'm also hoping that since it will be knit in a bulky yarn that it will go quickly!
Winter Sweater – Feather Nest Raglan in Cascade 220 in Silver. This one is a nice silver grey. The pattern looks easy to follow and will make it a little fancier than the other two.  I think the more detailed pattern will fit will with the light blue color.  Also, it looks similar to the pattern on the blanket I'm knitting so hopefully experience will make it go faster.
Lace Shawl – Nadira in Knit Picks Alpaca Cloud in Midnight. It will be a pretty almost black navy color with a lot of drape. I think it will also be really soft and warm.  I haven't knit with alpaca before so this will be an interesting learning curve.  I'm hoping it goes well, and since it's a lace weight shawl I hope it won't mater that the yarn is not as robust.
Spring Shawl – Summer Flies in a deep purple in Wool of the Andes. This is a "for fun" shawl to wear with my sun dresses in spring.  The last time I knit a smaller shawl it ended up being too small (I'm not sure how to wear it).  But Summer Flies looks like a happy medium in that it should be small enough for warmer weather and faster to knit, but it's big enough to look like a shawl.
Aran Sweater – Telluride in Wool of the Andes in Spruce. This is a deep green with a little blue in it (it's a Christmas Tree green).  I think the pattern looks like fun.  There will be seaming which I'm not happy about, but I like the pattern, and it's one I already own, so I'd like to give it a shot.
Holiday Shawl – Edwina Shawl in Knit Picks Gloss Lace in Port. This is a jewel tone red and a pretty lacy shawl that I think would be fun to wear around the holidays. The Gloss Lace has a nice shine to it that fits well.  I really like the pattern on this shawl and I think it would look beautiful (and be warm!) to wear it in winter when it's cold and dark.
Dresses Cardigan – Miette Cardigan in Wool of the Andes in Baltic Heather. The problem with normal length cardigans is they tend to look odd when worn with my dresses that sit at my natural waist, so I want to make a more cropped cardigan to wear with my sun dresses in spring and fall. It's also a good way to use up yarn!  I discovered last spring (when I wanted to wear my new dress to see the cherry blossoms) that I don't have any cardigans short enough to look right on a dress that sits at my natural waist.  This will also be a good way to use yarn that I don't have quite enough of to finish a larger cardigan.
Holiday Cardigan – This would be the Hopper Cardigan from New American Knits in Wool of the Andes in Garnet Heather. I want to make myself an awesome wool dress for Christmas 2015 in navy and pale blue. I think this cardigan (and/or the Edwina shawl!) would look great with that.  I really love this color, and I haven't used any of the patterns from New American Knits yet, so this will be a great way to fix that.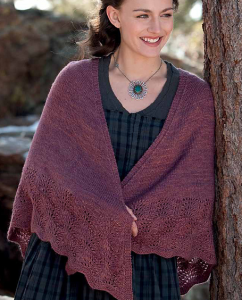 Favorite Color Shawl – This will be a shawl using the Road to China – Silken Jewels Light in Topaz Kristen gave me for Christmas. The yarn is beautiful and really soft, so I'm not brave enough to make a sweater out of it. I think a shawl will be beautiful and not subjected to as much wear and tear as a sweater. Currently I'm thinking this will be the Margarethe Lace Shawl, though I haven't decided for sure.