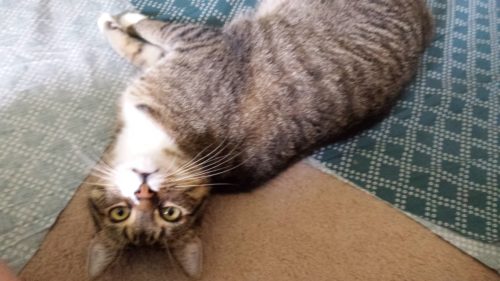 Usually I make myself a new summer dress every year for the 4th of July. I started doing this when I wanted to enter a contest for one of my favorite sewing patterns (Colette Hawthorn). And while I never got around to actually submitting my entry (though I finished my dress!) I decided I really liked having a nice new dress right before the massive humid hot weather of the middle of summer rolled in.
Since then I've made myself a new dress every year, sometimes two when I've been really ambitious. This year for obvious reasons I missed the 4th of July for my new dress, but I think August is still pretty good!  So this year my goal is a summer dress by Labor Day, maybe three dresses if I can manage it.  Luckily I have lots of help from the fuzzy household residents. They very much enjoy cutting out fabric.
I've also researched how to use knit fabric for my gored dress pattern (it's a basic Butterick pattern B3134) I've made before.  This seems simpler than drafting my own right now.  And since it's knit fabric I (hopefully!) won't have to line it and it will adjust as my shape changes (hopefully!).  Also I can just serge the seams rather than sewing and finishing them all.  Also I shouldn't have to iron it.  And I got my fabric from Nancy's Notions so I'm hoping this means it will be good fabric of a nice weight that won't pill a lot.