I've actually finished a few knitting projects lately.  The first is my shawl. I've been working on it for a little less than a year.  It's the first lace weight project I've ever attempted and it's surprisingly comfortable.  It weighs almost nothing, but wearing it gives a nice comfortable warm feeling.  So even though it may have been an epic experience finishing it, I'm pretty pleased with it.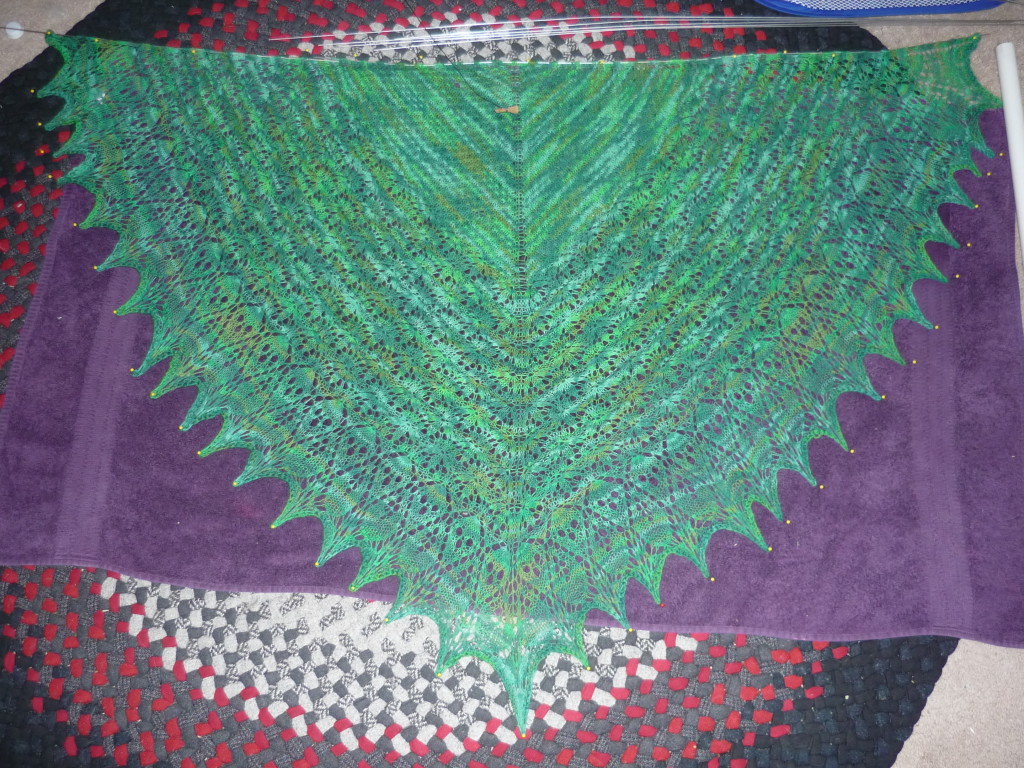 I've also finished one of my basic sweaters.  The first one was in "Bluebird" and it turned out great, and makes for a fun comfortable sweater.  I'm adjusting some of the measurements a little for the second version (in "Grass") and making the sleeves a little longer but I'm overall very happy with it.  It was an interesting project since the pattern is based entirely on your own measurements and preferences.  I think my gauge was a little off since I used a bulky yarn instead of an aran. (I did swatch, but based on how it turned out, I think it was still not exactly right.)  But it's still a comfortable sweater so I don't really mind.  And anyway, having sleeves that are slightly short is useful when washing dishes or on bread baking days!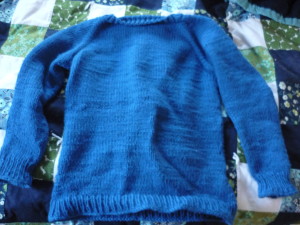 Another recent knitting improvement has been a gift from Patrick.  The basket is just big enough to hold my yarn, measuring tape and current project.  It also keeps my ball of yarn from rolling away when I'm knitting.  This is a bigger issue than you'd think given that I have two cats!  It also keeps my projects neat and organized and keeps them from picking up too much cat related fuzz.  If I set them down somewhere I often come back to find them claimed by one or more cats.  The sweaters actually took less yarn than I thought so I'm going to use the extra skeins to make a blue and green striped sweater.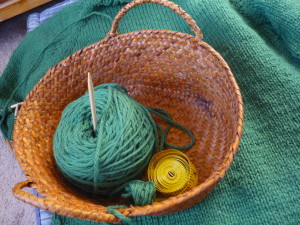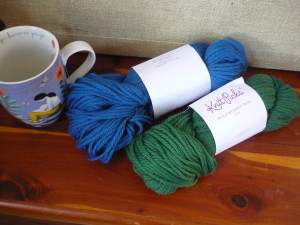 Next up will be a teal cardigan that ends at my natural waist that I can wear with my dresses this spring, and a fun purple shawl for summer.  I've also got some sewing to do too.  I've made two new pairs of PJs for Patrick, since while seersucker is comfortable it wears faster than some other fabrics.  One of them had some polyester in it so we'll see if that makes it more durable.  I have fabric to make myself some new PJs too.  I picked colors I thought would be good for spring and fall, one is blue with white flowers and the other is navy with red and white sailboats. I'm going to be using my favorite combination of Sewaholic's Tofinos and Kwik Sew 3553.  I think I'll do long pants and short sleeves to make them transitional.  I also got some plaid seersucker to make a second pair of summer PJs.
Loki for one has been enjoying all the craft time lately since it means that the papasan chair belongs to him!